Poly mailers have gained popularity for shipping in the E-Commerce industry. Learn how to use this lightweight, sturdy packaging to drive down costs.
E-Commerce is about cutting costs, and the type of packaging you use will determine how much you will pay to get items to the customer's doorstep. To get a positive return on their customer acquisition cost, retailers need to drive shipping costs down.
One way to do this is to choose the right packaging for shipments that will protect items from getting damaged on transit at a reasonable cost. While cardboard boxes are excellent for mailing delicate items, they may be unnecessary and expensive when sending less fragile items such as apparel and shoes.
That is why poly mailers have gained much popularity in the E-Commerce shipping industry as an affordable alternative to standard packaging. They enable E-Commerce merchants to strike the delicate balance between keeping buyers items safe and reducing shipping costs.
In this article, we define what poly mailers are, the common reason retailers use them, the type of product they can ship, and where to get them. We will also look at some of the shipping solutions that HANPAK offers to E-Commerce retailers to help them drive down shipping costs further.
What are Poly Mailers?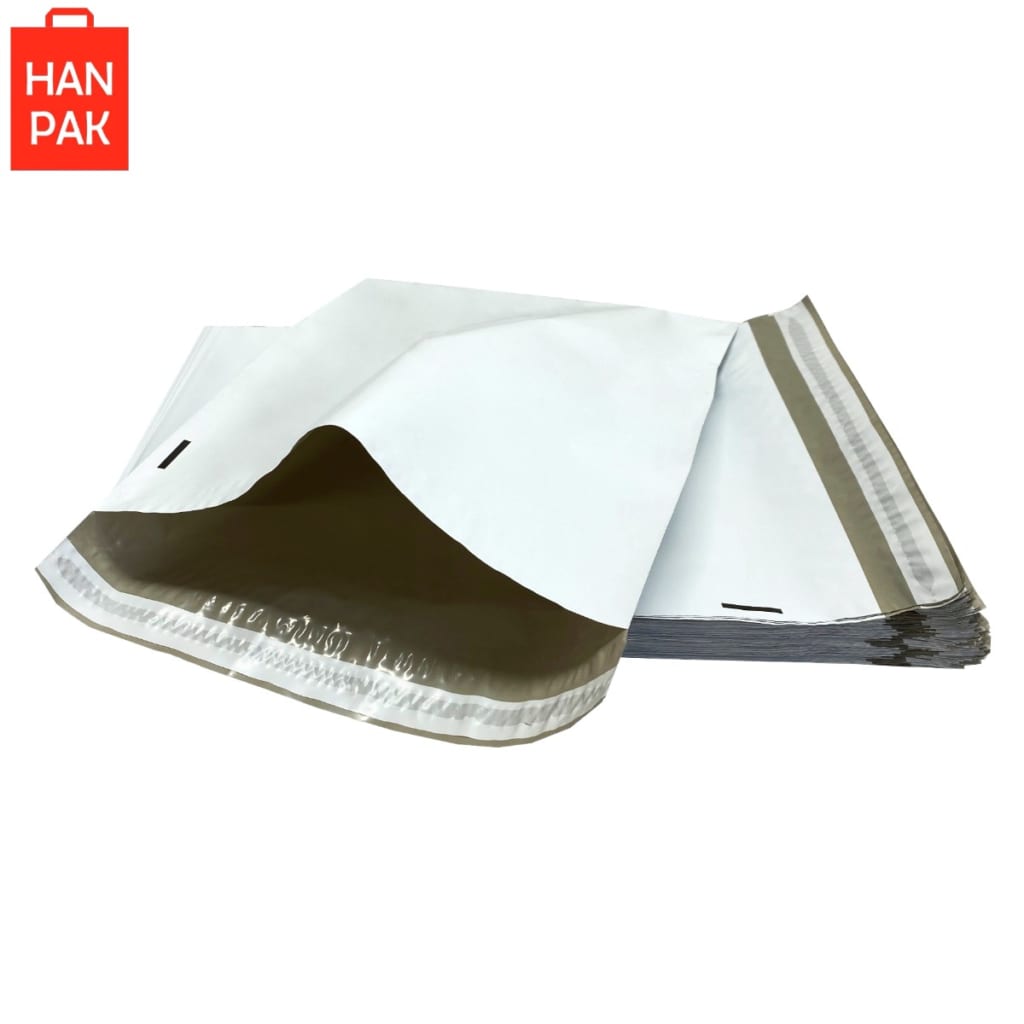 Poly mailers are lightweight, sturdy plastic bags that are designed to ship light and less fragile items. They are a great alternative to standard packaging. They help E-Commerce sellers cut back on packaging and shipping costs because they are affordable and take up less space on carrier's vehicles while on transit.
They have a self-sealing fold over lip and require no tape. A shipping label can also be affixed directly to the bag. This makes them easier to pack and ship, hence making for an excellent alternative for shipping non-fragile items that don't have to be shipped in big bulky boxes.
The Different Types of Poly Mailers
Whether you want to add more protection to your buyer's items, lower shipping costs be eco-friendly or showcase your brand, you are sure to get the exact type of poly mailer to achieve your goals.
Basically, there are four types of poly mailers available. They are:
Regular white poly mailers: These are the standard and the most cost-effective poly mailers with no bubble padding. They are your best bet if you want to save money on shipping costs. They are best suited for non-fragile items like apparel, or fragile items that are already in sturdy packaging and require no additional protection.
Bubble padded: Poly bubble mailers drive their name from the fact that they come padded with bubble wrap on the inside to provide additional protection to items being shipped. They are a bit more expensive and are ideal for high-quality items that require extra cushioning to prevent damages or scratches.
Expansion poly mailers: These are heavy-duty poly mailers that feature a padded bottom to allow for the shipping of thicker items. They are made of strong polyethylene and are ideal for protecting items from moisture damages during shipping. They are also puncture, tamper, and tear-resistant.
Eco-friendly options:  These are kind of custom poly mailers that are made for eco-conscious brands, and they include biodegradable and recycled options. This makes them ideal for eco-friendly brands that are focused on minimizing waste and maximizing the use of renewable energy because they are safe for both consumers and the environment.
Common Reasons Online Retailers Use Poly Mailers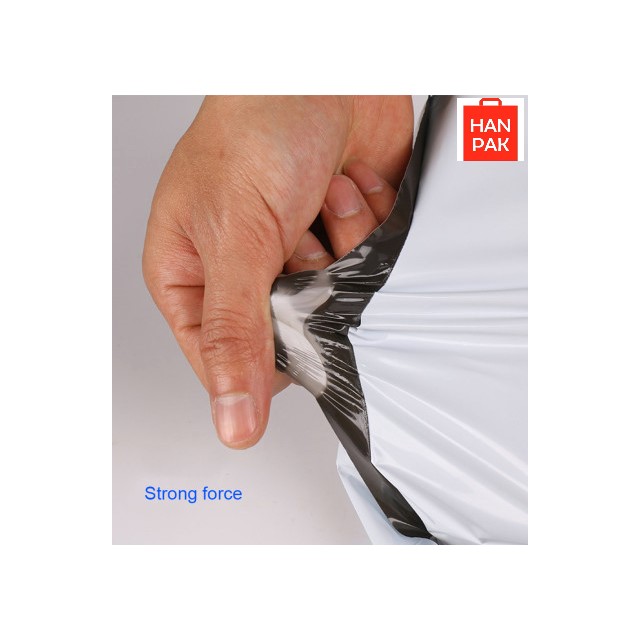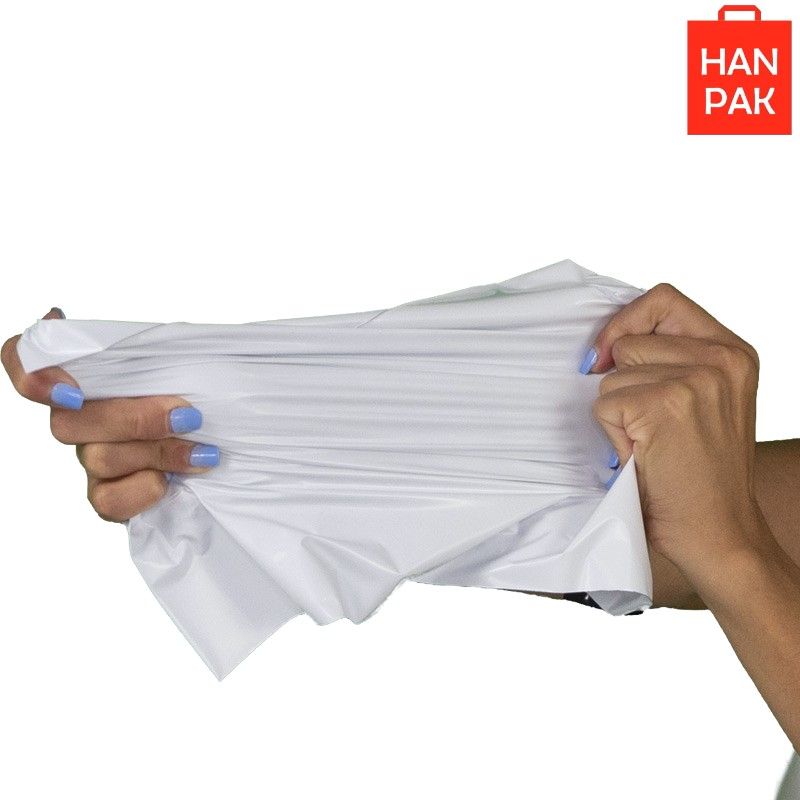 As we have already seen, poly mailers provide an affordable alternative to standard packaging. Here are the common reasons why online sellers use poly mailers.
They are affordable: Affordability is among the top reasons many sellers consider using poly mailers to send products to buyers. Poly mailers may cost as less as $0.25 per unit when purchasing in bulk, but you may end up paying as high as $1.25 for cardboard boxes of a similar size, even when buying in bulk.
They are smaller and lighter: Poly mailers are space-savers. That means they take less space on shipping trucks. Due to their lightweight and small size, they help E-Commerce merchants cut back on shipping costs compared to cardboard boxes that come with the dimensional weight element. On the other hand, poly mailers help reduce dimensional weight, hence reducing shipping costs for lightweight items that would otherwise take more space when shipped in a box.
They are easy to brand and customize: Just like boxes, you can give your poly mailers a sleek look with custom branding options and delight your buyers with a great unboxing experience. It is even easier and cheaper to include your logo, imagery, colors, and other branding materials on poly mailers than boxes.
They include eco-friendly options: If your brand is built on an environmental-conscious foundation, you may rightly look down upon standard poly mailer bags as a terrible option for the environment. The good news is that there are many eco-friendly packaging options for poly mailer bags offered by different packaging companies. You may even approach a packaging company to make your own custom poly mailers that are recyclable and biodegradable.
They offer an extra layer of protection: Some retailers prefer poly bubble mailers because they help cushion items from the unfortunate reality of shipping damages without the need to use extra dunnage. When sending fragile items that may get damaged when packed with standard poly mailer bags, they can just opt for a little extra padding with bubble-lined ones to maximize security and prevent damages.
Common Poly Mailer Sizes
It is important that you find the right poly mailer that makes for a snug fit for the item you are sending. For example, an extra small t-shirt will need a different poly mailer size than an XXL t-shirt. The table below gives you a ballpark of common poly mailer sizes and the products that are best suited for them.
| | | | |
| --- | --- | --- | --- |
| Poly Mailer Size | | Product Type | |
| 12 x 15.5″ or 14.5 x 19″ | | Sweater | |
| 12 x 15.5″ | | 2-3 shirts | |
| 10 x 13″ or 12 x 15.5″ | | Yarn | |
| 10 x 13″ | | Napkin Set | |
| 6 x 9″ | | Socks | |
| 12 x 15.5″ or 14.5 x 19″ | | Jeans or Dress | |
| 9 x 12″ | | T-shirt | |
| 10 x 13″ | | Dress shirt | |
| 10 x 13″ | | Fabric -1 yd | |
| 12 x 15.5″ | | Fabric -2yds | |
| 14.5 x 19″ | | Fabric -3 yds | |
| 14.5 x 19″ or 19 x 24″ | | Sheet set | |
| 9 x 12″ | | Fabric patterns | |
Where to Buy Poly Mailers
So far, you know what poly mailers are and the type of products you can ship with poly mailer bags. But where can you buy them? You can find poly mailers for purchase at Products in HANPAK website: www.hanpak.com.vn
Contact HANPAK for samples, for similar disposable polyethylene gloves not listed or for volume discounts today!
Please contact immediately via to email info@hanpak.com.vn or hotline (Mobile/WhatsApp) +84 898 545 893 to help get the answers you need.
Hope to have chance to cooperate with you in near future.