We all are aware of the term "plastic". It is an essential part of our daily lives, but do you know how plastic products are made?
Step 1: Extrusion of plastic film
To begin the manufacturing process, manufacturer will superheat raw HDPE, LDPE, or LLPDE plastic master batch and pressurize to form a uniform molten liquid. After that,  air is pumped into from below, producing a long thin balloon of plastic film that passes through a tall vertical corridor.
After that, this plastic "bubble" cools as it expands upwards, encountering multiple rollers that stretch the plastic into thin sheets that will make the walls of the bag. These sheets are then rolled onto two separate flat beds and sent to the printing machine.
Step 2: Printing
Single use poly bags composed almost entirely of pure polyethylene molecules. Secondly, special characteristics needed for a completed bag continues from here. Logo designs and text is added to the bag, printing work and special sheet surface treatment are done in this process.
Step 3: Converting
Then, the cutter pressed at the edges of two printed films to form the sides of the bag, for instance vest carrier cutter. The plastic can be wound and, then cut to the shape and size, gussets, perforation and zippered seals… according to customer's packaging needs.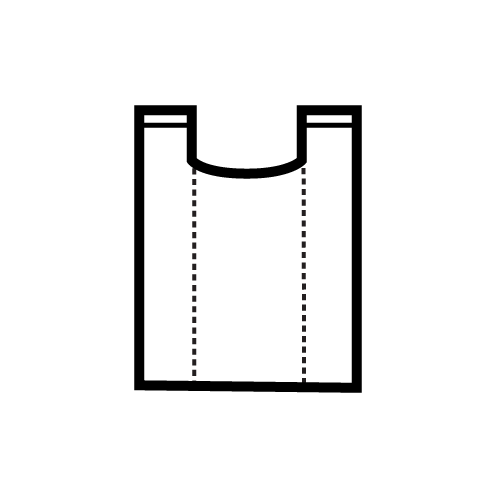 Plastic bags in Hanpak JSC
Please kindly see the following information to know more plastic bags we can produce currently. Detail specifications will be based on customer's demand:
Material: HDPE, LDPE, LLDPE, MDPE.
Thickness: 8 – 200 micron
Printing: up-to 8 colors/ 2 sides
Packing: in bales or in carton as requested
MOQ: 1 ton
Delivery time: 15-20 days/ container
Payment term: TT or LC at sight
How to contact with Hanpak JSC
At Hanpak JSC, we pride ourselves in offering the best quality vest carrier bags as per customer's request with perfect service and policy in sale and after sale. We make each of  bags with our whole enthusiasm, strict management and high quality resin. We're always looking out in your request for just the right balance between cost and quality. Therefore, we are confident to bring you most wonderful bag choices.
Hanpak JSC receives orders for custom poly shopping bag as per customer's requirement. For more information of our plastic bags, please kindly contact with us immediately via email info@hanpak.com.vn or hotline (Mobile/ WhatsApp) +84 898 545 893. Our sale experts will help you have an excellent choice for your orders with suitable prices and high quality.