Poly wicket bags are a cost efficient, convenient option for many different industries. These are stacked plastic bags on a wire wicket, held in place with a rubber washer and chipboard header, featuring starter notches or side notches. This bag type is for hand-loading, semi-automated, and automated packaging equipment. They are just one application for side weld poly bags, which feature a single opening.
As a business, either a retailer or production facility, you may be wondering how to increase your packaging efficiency and speed. In this case, wicket bags can more than fit the bill. There are so many benefits and convenience that come with wicket bags. But as always, before making an investment, you should do your research on both the pros and cons.
Pros of the poly wicket bags
First and foremost, it is clear that wicket bags can boost productivity on your production line. Because they accumulate together in a neat way, users can efficiently transfer products to the bags and send it along to the sealing process.
Moreover, there are many applications that wicket bags provide a purpose for. They are particularly popular for use in the food industry as it pertains to FDA standard poly wicket bags.
Poly wicket bags can work very well in a variety of industries as below:
Food products (baked goods and produce)
Textiles (clothing, socks)
Plastic Injection Molded Parts
Medical Supplies
Pharmaceuticals
Lastly, wicket bags are customizable poly bags for the practical use purposes. Additional features you can opt for your bags are vent holes, bottom gussets, lips for easier tearing, and tape (permanent or resealable) to seal the lip. Also, you can have the printing on wicket bags, from your logo to the contents of the bag.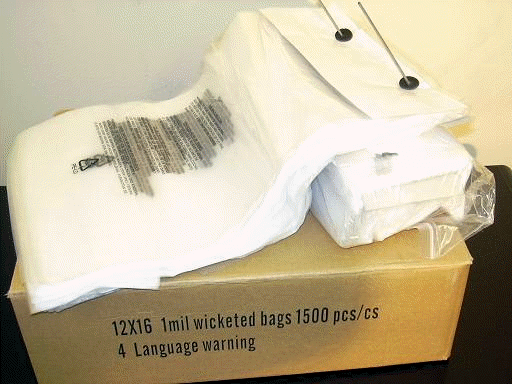 Cons of this bag type
The only con associated with wicket bags is how they relate to recycling and waste. As mentioned above, wicket bags have a head part of metal wickets with rubber washers or grommets; once the bags have been used up, these items remain behind. This can create waste for your company. This can be a concern for some of you.
In fact, wicket bags offer multiple benefits to your production floor, in the form of efficiency, convenience and speed.
Don't hesitate to contact us for more information about this convenient bag type. If you haven't had a clear idea for wicket bags, we are glad to support you!
Visit our store of the poly wicket bags.