HANPAK is Top Virgin Stretch film manufacturer and supplier of a various types of stretch films, especially Virgin LLDPE & High quality Stretch films.
1. Main Purposes of Virgin Stretch Film:
1.1: Packing: This is one of the main and most obvious uses of stretch wrap. There's nothing that a stretch wrap cannot package. If you need to bundle many things together, you should use Stretch wrapping film. This makes it useful for packaging sensitive material such as glass that is fragile. Stretch wrap is the best quality because it is sturdy and puncture resistant. The material is flexible, and as technology continues changing, its uses expand. If you are using this wrap to package large and heavy materials, then you will need several people to make sure the job is done tight and right.
1.2: Industrial use: There's no greater use for max film wrap than in industries. People wrap the material around a boat, a pallet and other large items to protect them during transportation. And they common use pallet for wrapping. Max film for industrial purposes is specially designed to fit the heavy duty purpose. For the more sensitive and heavy items, several layers of max film will do the job effectively.
1.3: Protection: Stretch wrap is made of a thin polyethylene material. Therefore, it can protect items from wear and tear. The wrap comes in varying degrees of thickness to facilitate different purposes. For heavy and fragile materials, thicker wraps are best. One property of wraps is that they can really stretch out, and so it doesn't matter the size of the item you want to protect. When a fire or a natural disaster strikes and buildings need to be cordoned off from the public, then this material comes in handy.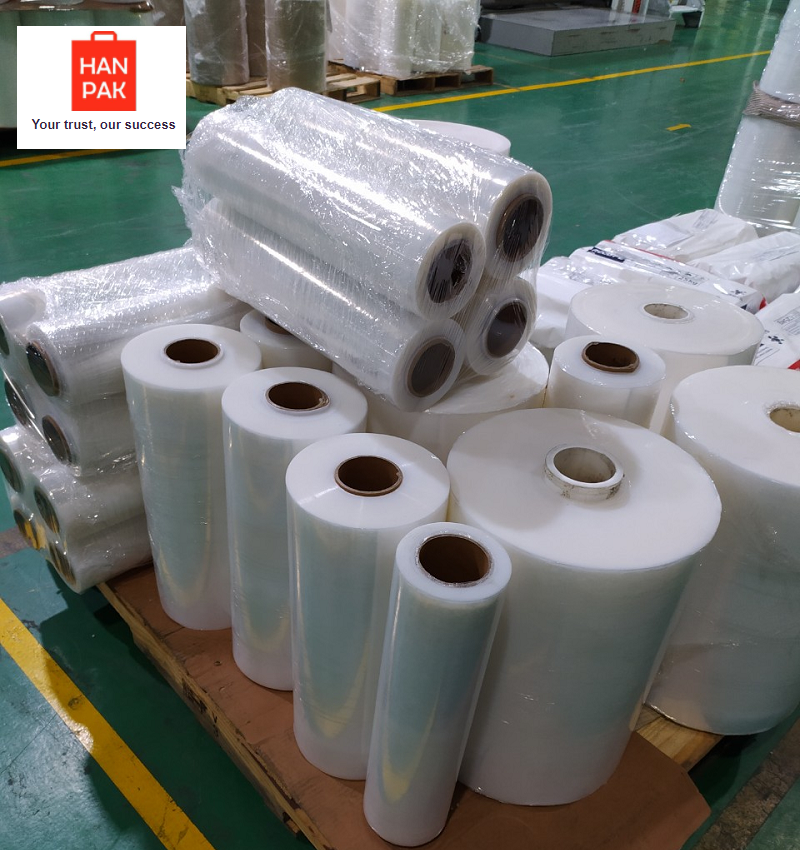 2. How to order Stretch film for your business?
Most companies normally cannot produce Stretch film by themselves and they have to buy it from their suppliers. If your business need more than 2 tons per month, you should consider to order Stretch film from Big suppliers. And buying Stretch wrapping film from the country which can produce it is really a good idea.
HANPAK is Vietnam plastic bag manufacturer and supplier of a various types of stretch films . HANPAK uses excellent quality material for their Plastic Stretch film as they import virgin material from most trustworthy and reliable suppliers. Our customers highly recommend these virgin LLDPE Stretch Films because of its flexibility, easy peel off, high-strength, transparency, good cling property, resistance against water and lightweight. All HAPAK's Stretch Films products are used for having protection from pilferage and leakage of packed items and to improve the look & sales appeal of a product. Moreover, to cater to the diverse requirements of customers, HANPAK can customize stretch films in variegated microns, sizes, lengths and thicknesses, packing, etc.
Please contact us at our official website www.hanpak.com.vn or order directly via Alibaba shop here. Our professional sales will advise you the best!
Hope to cooperate with you soon!