Block-head punch out handle bag is also known as block-head die cut bag, block-head kidney punch handle bag, block-head reinforce die cut bag, etc.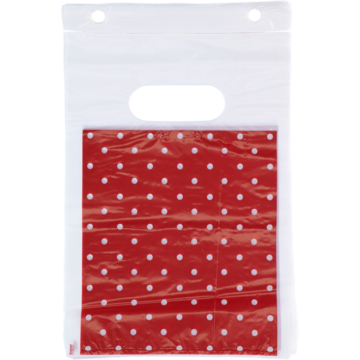 Block-head punch out handle bag design
Hanpak designs block-head die cut bag with a perforation line on the lip and a bottom seal line. Besides, we make different punch out holes on the bag such as oval shape, round shape, kidney shape as per customer's request. Thus, we can tear each bag more easily and faster. As a result, this kind of bag is suitable for packing the light items, small gift, cosmetic, clothes, medicines, etc.
For color of this bag, we mix masterbatch with virgin resin to create suitable color as per customer's requirements. Therefore, you just need to give me the pantone color of bag film you want. In case, you want to print artwork on the bag. It's simple. We use gravure printing technology for all our printed bags. In addition, we use corona treatment for all printed items before printing. So, the printed image is very beautiful, sharp and durable. This is also a great way to advertise.
Materials for block-head die cut bag
Normally, there are 2 type of materials used for production of these bags for every purpose:
1. Low-density polyethylene (LDPE): LDPE is a thin layer of polyethylene – the most commonly material since its softer look and thickness. It has good puncture resistance, tensile strength is lower, resilience is higher than HDPE.
2. High density polyethylene (HDPE): Feel crisp, strong and more opaque than LDPE. It's punctured by sharp objects easier than LDPE. Bags made from HDPE makes bags thinner and stronger.
We use 100% virgin raw materials to produce the bags. So, our products meet EU, USA, Japan Standards.
How to contact Hanpak JSC
At Hanpak, we make all products with our whole effort, strict management to ensure product's quality. For more information, please kindly contact us immediately via email <info@hanpak.com.vn> or Mobile/WhatsApp/Skype <+84 898 545 893>
We always endeavor to respond within 24 hours.