PE Gloves are currently popularly used in most countries because of their convenience.
PE Gloves are widely used in everyday life and in most fields:
– As a protective tool to protect hands when using detergents or in contact with chemicals, toxic substances.
– In food processing factories, food, fresh food to ensure food hygiene.
– For places that need absolute cleanliness and safety such as medical facilities, hospitals, clinics.
– For chefs, housewives in preparing dishes, preparing fresh recipes, mixing ingredients well, etc.
Read More
There are different types of PE Gloves (HDPE, LDPE, CPE, TPE). We will compare all type of Disposable Plastic Gloves in the Disposable PE Gloves Comparison part below:
HDPE and LDPE: HDPE Gloves are harder and thinner, LDPE Gloves are softer and stronger. Both of these types are cheaper than CPE and TPE Gloves. They're thin and lightweight, suitable for light-work
CPE: Alternative version of PE Gloves, it is thicker and much stronger than PE Gloves but of course more expensive. The min thickness for this kind of Gloves is 25 mic
.
TPE: The second generation CPE gloves. CPE gloves usually use very thick embossing to increase the feeling thickness, but TPE gloves usually use smooth embossing to strengthen its soft feeling and better elongation and also tensile.

CPE, TPE Gloves are alternative choices for Nitrile and PVC Gloves at a cheaper price.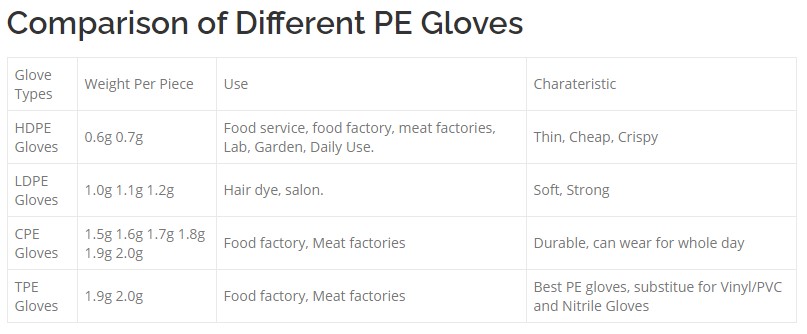 Our Gloves are durable, excellent flexibility, and odorless, non-toxic, hygiene. Besides, We also have Food Contact Certificates for our Gloves which means they are safe with food.
You can check for more details about our product on Alibaba