In recent years, the remarkable improvement of human living conditions has led to the growth up of goods consumption, especially retail field. According to this increase, it has been witnessed an impressive development of demand of T-shirt Bag in a wide range of regions all over the world. T-shirt Bag is even achieved one of the most preferable packaging products as the voting result from several well-known channels.Let's go into detail to comprehend why T-shirt Bag has experienced the prominent development in the following:

T-shirt Bag: Not only food packaging
In the state-of-the-art and optimal era, human has manufactured products with many different functions to adapt the demand of society. And T-shirt Bag is not excepted. Initially, T-shirt Bag was commonly used for food packaging in markets, retail stores or groceries. People always concentrated on its quality such as its endurance, its duty, its cost, etc… However, in the modern life, T-shirt Bag has not only been used for food packaging but also played a crucial role in marketing and advertising the owners' brands. It is easy to observe a gigantic quantities of T-shirt Bag have been used in supermarkets or malls with attractive design and printing. These T-shirt Bags will embed on customers' mind and help brands catch people's attention.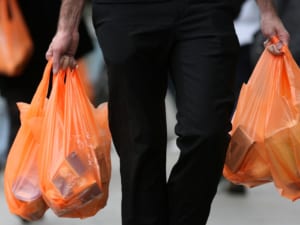 LONDON - FEBRUARY 29: Shoppers leave a Sainsburys store with their purchases in plastic bags on February 29, 2008 in London, England. The Prime Minister Gordon Brown has stated that he will force retailers to help reduce the use of plastic bags if they do not do so voluntarily. (Photo by Cate Gillon/Getty Images)
T-shirt Bag: An effective way to marketing and branding
Numerous brands have aware of how effective that T-shirt Bag can impact on customers. Instead of paying a large amount of money for advertising, they can combine the multifunctional use of T-shirt Bag in an effective way. With a cheap price, manufacturers could use T-shirt Bag not only for food packaging but also marketing and branding with impressive design on the bag to attract customers.

All in all, it is our pleasure to bring essential information to you. There are many other products and services on our website Hanpak and our Gold Alibaba Store for your reference.In case you need any further information, do not hesitate to contact us via this email address info@hanpak.com.vn.
It is our great honor to make you fully satisfied.