Stretch film or stretch wrap is a highly stretchable plastic film, which mainly made from Linear Low Density Polyethylene (LLDPE) material. We can use them in packaging and shipping by wrapping around items/goods/pallets to keep them safe when moving. Besides, the elastic recovery of stretch wrap keeps the items tightly bound. Nowadays, millions of companies uses Stretch film for their business in all over the world because of much its advantages. There are many different types of stretch film but in this article, we just find out 2 most popular types: Machine Stretch film and Hand Stretch film. Like Plastic trash bags, Shopping plastic bags and Food plastic bags, Stretch film is also one of the strongest product of Hanpak JSC with capacity of 1500ton per month.
Machine Stretch Film:
Machine stretch film was created to be used by a stretch wrap machine. It has more advantages than hand stretch film in various ways such as: quicker and greater efficiency in packaging, lower material spend, greater safety and superior load containment.
Cast machine stretch film, blown machine film and pre-stretched films are 3 popular types of machine stretch films. However, we just focus on Blown machine stretch film although it is more expensive than others. This stretch film is high quality and generally stronger than the majority of other stretch wraps, it also boasts a greater resistance to tearing.
The net roll weight of machine Stretch film is about 10-50kg depending on customers' requirement.
Thickness: from 10-30mic, but normally from 12-25mic.
Price: the price of Machine stretch film depending on the roll weight, packing, the cost of material, and of course, depending on your suppliers.
Hand Stretch Film: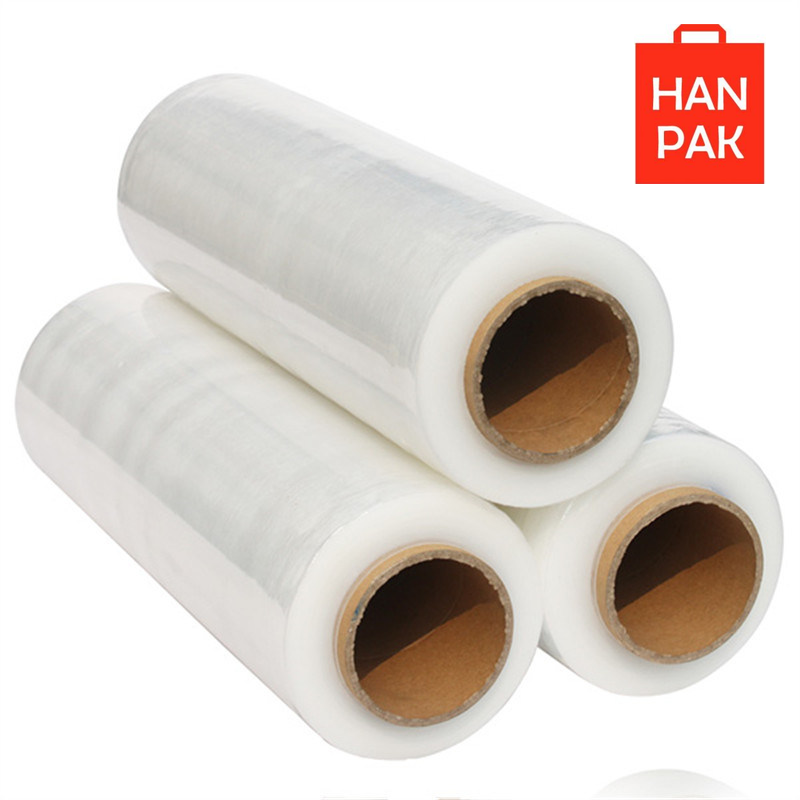 Hand stretch film is made exclusively to be wrapped by human labor manually. We also call them as hand film, hand stretch wrap, hand wrap or manual pallet wrap. The roll weight of hand stretch film is about 1.5kg – 4kg including core weight.
Hand Stretch film mean people will use it by hand, slower than machine stretch film. However, Customers prefer to use it for wrapping small items/goods.
The Color of Stretch Film is often clear or transparent. However, we can make it with color if request.
If you have any inquiry of Stretch film for your business with a large number (from 1 ton), please contact us at www.hanpak.com.vn or send us your inquiry at info@hanpak.com.vn . We are one of the top plastic bags manufacturers in Vietnam. We can custom Stretch film with difference sizes, thickness, packing, etc. Especially, we focus on high quality Stretch film made from 100% LLDPE virgin resin. Our sales team will advise everything you need and support you with our best services.
Hope to cooperate with you soon!