Plastic t-shirt bags are one of the most popular types of plastic shopping bags used in many industries. As the name suggests, these bags look like a t-shirt, and with this shape, they are very convenient to carry around. These shopping bags are also offered as free giveaways at retailer counters and other commercial outfits, where customers use them to carry different kinds of small and big items. Counted among one of the leading t-shirt plastic bags suppliers in Vietnam, Hanpak JSC provides plastic grocery bags in various configurations at competitive prices.
Typical Beneficial Features of Plastic T-shirt Shopping Bags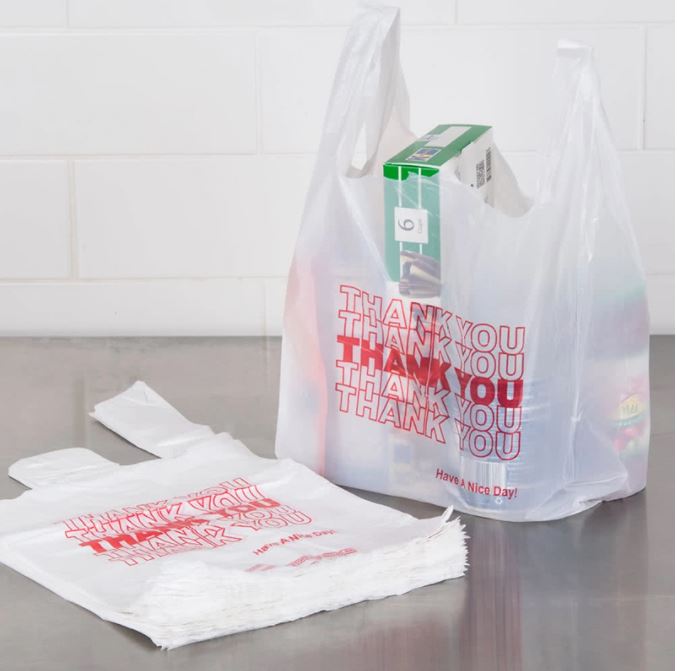 Over the years, we have had the opportunity to cooperate and serve clients across the world. We believe the following benefits of t-shirt plastic bags have contributed to their popularity among our clients.
Customizable
These retail bags can be made of both high-density and low-density material, which is easy to be customized with any business logos and other product information. Made of high quality material, these plastic shopping bags can highlight any information printed against them.
Durable
T-shirt shopping bags of specially formulated material help improve their shelf life as well as increases their durability, thereby creating in the minds of users a feeling of reliability.
Recyclable
The special controlled-life formulation of plastic helps improve the recyclability of these bags. It means these plastic shopping bags will easily break down in the presence of heat, sunlight, moisture or other environmental elements.
Various colors and sizes
Hanpak provides custom plastic shopping bags in attractive colors as long as you show us the ones you like, then we can follow that. As well as with advanced technology, factories can cut exactly the bag dimensions required lengths to suit clients' practical usage.
Great solutions for problems with dust and moisture: High density and high molecular weight construction is a highlight features of t-shirt bags. This is why they are being regularly used by all small and large businesses alike to wrap items of various sizes. Users can stay assured that the items stored inside will keep from dust and moisture.
Why Make These Plastic Bags Become Most Widely Used?
There are various plastic shopping bags in use, however, the following reasons make t-shirt bags special among them.
Trendy
Custom t-shirt bags easily attract attention due to their unique shape. It means your brand logo printed over these bags will be easily noticed from a distance. Owing to this advantage of their sleek and trendy design, users tend to use these bags more often as they can, thereby use the most of this advantage to promote their brand.
Convenient to Carry
Made of lightweight plastic, these plastic shopping bags are easy to carry around. And unlike other materials, they do not add to the weight of the stored item. This is why many retail stores of food, books, cereals, hardware, and so on trust to use this bag type.
Easy to Store
You can keep these bags flat, and require no specific efforts or precautions for stock like other materials. Moreover, you can keep this bag in a cool and dry place.
Saving in Transport
This plastic bag is easy to transport, owing to their durable. With lightweight construction, so it is saving to you a lot for this cost. Thus, your brand name will easily travel places, without any additional efforts from your side.
Advise for Custom T-Shirt Bags from HANPAK Today
Being a trusted t-shirt plastic bags supplier, Hanpak is committed to provide only quality products. Our commitment to quality and customer service has enabled us to build a list of happy and satisfied long-term customers. If you are unable to decide on the size or color of the bag, our enthusiastic customer supports will help you in appropriate bag specifications for your own needs. Contact us today to know more about these bags.
Also, find us in another E-commerce Market.