Zipper bags are a product that is widely used today, in many fields. However, not everyone knows what material this bag is made of, how are the properties, and whether it is safe to store food or not? 
If you are also among them, do not hesitate to spend a few minutes on our article, you will have the answer immediately.
What are Zipper Bags?
Zipper bags, also known as Ziplock bags, is a plastic bag made from PE plastic, with a zipper-locked mouth. This design helps the bag to be airtight, to preserve the product well inside, so it is very popular in many fields, especially for storing food, vegetables, and fruit.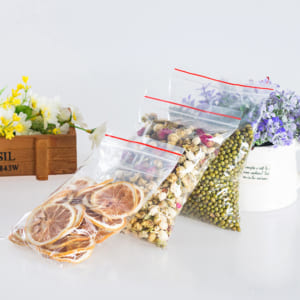 Is the Zipper bag safe to store food?
Zip bags are safe to store food or not is one of the most common questions, especially with consumers, when this type of bag is being commonly used to store food.
In fact, in addition to possessing outstanding physical characteristics to preserve food better, and convenient to use or carry, Zipper bags are also known as food safety bags due to the following advantages:
Made by 100% virgin material with transparency, which is safe for keeping food, and no toxic for human's health. 

Extremely good heat resistance from -60 degrees C to 110 degrees C, used to store frozen or hot processed foods.

The bag is not deformed.

The bag is tight so the food is always guaranteed, entirely safe for the health of the user.
Because of their safety properties, zipper bags are commonly used for storing food. 
However, it should be noted that depending on the type of bag, deciding which food to store will be different. 
 Where to buy zipper bags in Vietnam with a good price?
With many years of experience in the field of production, design, and printing packaging, Hanpak is confident to bring you quality packaging products at the best prices in the market with attractive offers.
Hanpak also provide customized design for clients who want to have logo/brand/words on bags. This is a great way to promote your company's reputation, and useful marketing tools with low cost.