The main advantages of plastic shopping bags are in cost-saving, easy to use, and convenient to pack.
Currently, cost of plastic shopping bags is lowest with quick production time. With same quality, plastic bags have more pieces than paper bags, pp woven bags or cloth bags.
Besides, plastic shopping bags are more durable than paper bags. They can load double up than paper bags. They are less to tear, easier to carry, and far more useful in the rain. Specially, using plastic bags to pack wet things is the best because it can't be leaked.
Moreover, plastic bags are reusable for various purposes such as trashcan liners or pack and store other items. Unlike paper bags, they can be rinsed out and used for a different purpose.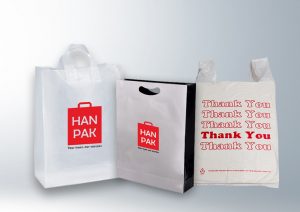 However, to protect the environment, let's reuse your plastic bags as much as possible and recycle the rest. By this way, users can avoid disadvantages of plastic bags and gain more profit from your habit beside maintain a more sustainable environment.
(Source: Hanpak)