Ziplock bags are a cost-effective and versatile packaging option for both food and non-food items. This type of packaging is an ideal fit across a host of industries, within retail and for private use at home.
Plastic reclosable bags are also known as grip seal bags, zipper bag, plastic seal bags and seal again bags. Not only are they a great option for organizing various items, but here at HANPAK, our zipper bags are highly robust and can be used again, making them an eco-friendly, cost-effective packaging solution.
There are countless uses for our range of Ziplock bags. To help inspire you, we've compiled some tips to showcase the many advantages of this packaging and the many applications that our handy Ziplock bags can be used for.
Easy grip seal
How do HANPAK's ziplock bags work? The grip seal can be easily set to the closed position by simply applying pressure to either side of the grip. The secret to our resealable bags is this simple squeeze and pull apart top, which enables these handy bags to be used again and again.
Our grip seal bags are easy to open and user-friendly, thanks to one side of the header being slightly higher than the other.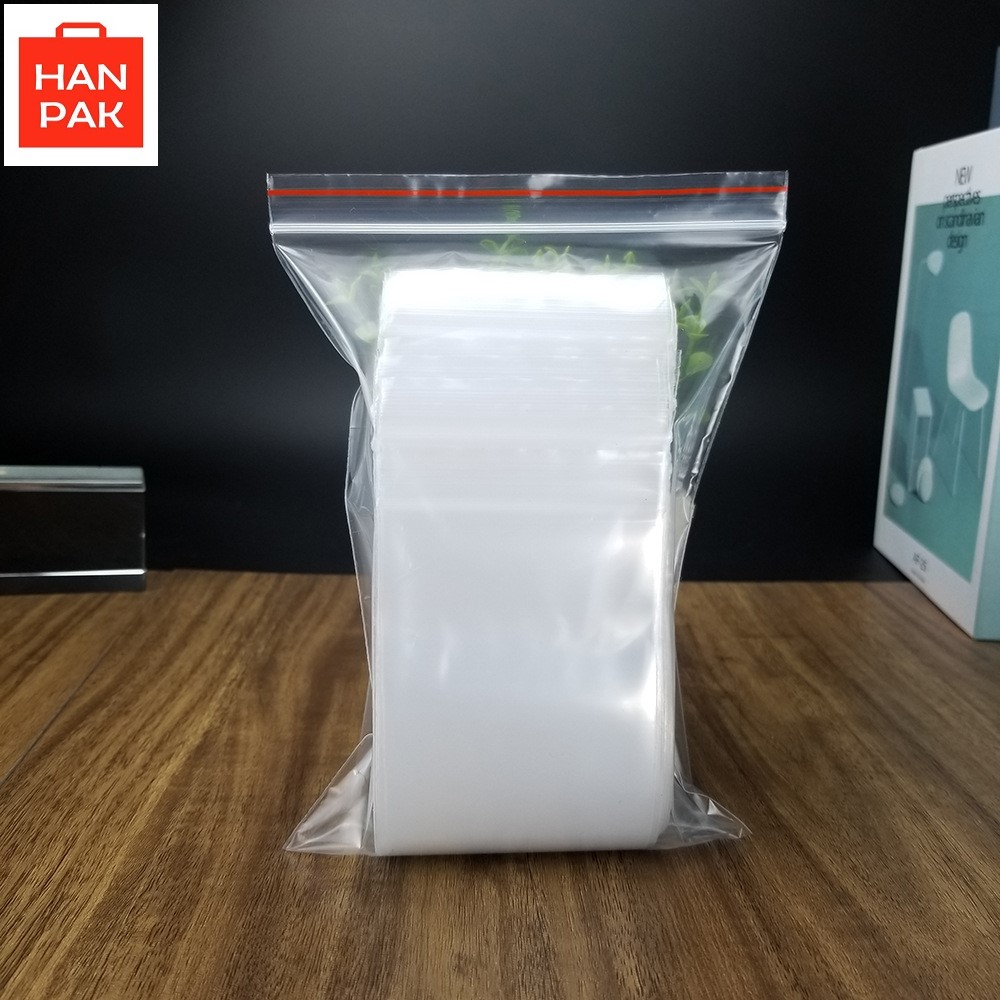 Eco-friendly packaging
Here at HANPAK, we pride ourselves on our environmentally friendly ethos, and this is reflected in our range of eco-friendly packaging options. Our grip seal bags can not only be used time and time again due to their grip seal closing, they are also recyclable once ready to be disposed of. We also have a range of biodegradable zipper bags which have an additive making them oxo-degradable – they may be decompose within 24 months in a suitable environment conditions
Our premium range of seal again bags are commonly made from high quality 200 gauge (50 micron) polythene are the perfect solution for the storage of bulkier, heavier items. From electronics and toiletries to weighty foods and medicines,…
Food Storage
Grip seal bags are a popular choice for food storage. Their wide range of sizes means they are suitable for a host of food products.
Our range are also food certified, making them the perfect solution for the storage of a wide range of foodstuffs. They are a great option for the catering and hospitality industry, as well as for food and medicines
We're specialized in Zipper bags made of 100% PE material, tested and safe for food.
Jewellery
Whether you are displaying and selling items of jewellery or are looking for somewhere to securely store your precious items, our ziplock bags offer the perfect solution. From small pairs of earrings, brooches, and bracelets, to larger necklaces and accessories, our range of sizes will offer the ideal home for your precious jewellery items.
Travel
Nothing is more frustrating than a suitcase leakage on your way to a holiday or business trip. Make unpleasant travel mishaps a thing of the past by using our grip seal bags to protect your suitcase from spills.
Contact HANPAK today
If you are looking for the safe and secure storage or display packaging for your business, contact HANPAK right away .We're confident in bringing you the best quality product and meet your expectation
For any questions or request, please get in touch. Our team are very glad to support you 247
These are some ways you can contact to us
Email(Skype) info@hanpak.com.vn
Whatsapp: +84 898 545 893
Please visit our Alibaba store for find more interesting products 
Hope to cooperate with you soonest!!