E-commerce
Times are changing, with the relentless rise of internet shopping, traditional enterprises especially those in the retail industry are finding the going rough.
This calls for more innovative marketing to retain existing customers while at the same time reaching out to new markets. One of the most effective techniques you can use today is custom t–shirt bags.
Read our story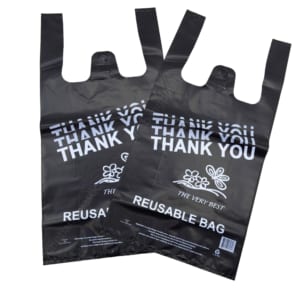 Well, paper bags have been used for a long time as branding tools but the t-shirt bag design is more effective as it perfectly fuses affordability, aesthetics, and functionality.
If you are wondering how you can sustain your marketing campaign on a budget, it is time you learned how these vest carrier bags can help.
Wherever you look today, shopping bags are in high demand and this is what you need to leverage as a business owner. Your goal is to get your brand noticed and the best way to do this is by using the reusable merchandise. In this regard, nothing works better than T-shirt bags.

T-shirt bags bring many advantages for wholesalers, business owners.
Turn these bags into an effective marketing tool, let discover with us on Part 2 of this article. 
At Hanpak JSC, we pride ourselves in offering the best bags  as per customer's request with perfect service and policy in sale and after sale.