Plastic bag supplier is popular keyword in plastic packaging field. Using this keyword, customers can find some plastic bag manufacturers for their demand.
How to find suitable plastic bag suppliers
Hanpak suggests the buyer one of highest effect methods in finding suitable manufacturers. Please kindly see on below for details:
At the beginning, the buyer shall study some countries which have the strengths in producing plastic bag. Certainly, after studying carefully, they will see that Vietnam, China, Malaysia, Thailand, etc. are top countries making plastic bag.
After that, the buyer shall focus on searching plastic bag supplier who operates in the above nations. If so, searching scope will be smaller and the buyer will have better finding result. It's easier to find if customers know which country they want to buy from.
Now they have to choose some suppliers among a lot of manufacturers in this country. Take it easy! There are a lot of elements which help buyer choosing their most suitable supplier. Some buyers need cheap prices. Others want quick delivery time and leading time. Almost of them request good service and high quality. Several buyers focus on payment term. It's difficult for supplier to meet all these elements. So, you have to know what you want, then choose best option for you.
For prices, material cost is almost same between different countries. So, the buyer just need to compare conversion cost to choose their supplier. For other elements, they have to work directly with suppliers before assessing. They just proceed next steps in cooperation in case everything is fine.
Vietnam – an ideal destination of outsourcing plastic bag
Many years ago, China was an ideal place for outsourcing. One of reasons comes from cheap production cost. However, labor cost has an upward trend in China. So, the production cost increases a lot. So, customers tend to find another country to replace in needed case. We can see that it seems to have a wave of movement from China to Vietnam for seeking suppliers.
In Vietnam, the government has promoted the economic by opening and integration policy. Thus, business transaction become easily much more before.
Besides, Vietnam has advantages in labor cost as well as living cost. So, more and more foreign customers come Vietnam to expand their business and find plastic bag supplier.
With a lot of advantages, Vietnam is an ideal destination of business trade and international cooperation. This is not only opportunities but also challenges for enterprises in Vietnam. Thus, plastic bag manufacturer has to adapt to develop and change for suitable.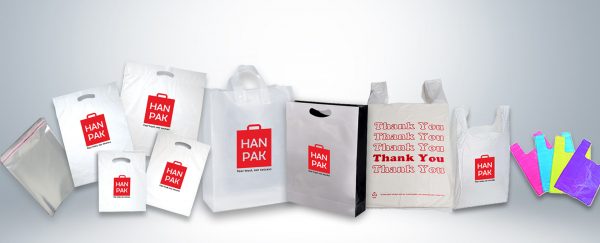 Hanpak – one of the prestigious plastic bags manufacturers in Vietnam
Hanpak always prides ourselves in effort to create most suitable products with customers request, best services in sale and after sale as well as competitive prices. Each of our products is made with our whole enthusiasm, strict management and high quality resin. We're always looking out in your request for just the right balance between cost and quality. Since, we are confident to bring you most excellent bag choices.
Hanpak JSC receives orders for plastic bags as per customer's request. Please kindly contact with us via email info@hanpak.com.vn or hotline (Mobile/ WhatsApp) +84 898 545 893 to know more detail. Our sale experts will help you have an best choice for your orders. We believe that you will feel satisfied with our suitable prices and high quality.
If you need any support from us, don't hesitate to let us know. We will try our best to help you.
Hope to cooperate with you soon.
(Source: Hanpak)