So you want to buy trash bags. Sounds simple enough, right? Not really.
Standing in the trash bag aisle, you'll stuck with dozens of choices, all which seem pretty similar. Then there's tons of statements touting each bag's strength: ultimate, extra strong, 3-ply strength, trusted strength.
So how do you choose the right trash bag? Good question.
What is this trash bag going to be used for?
Kitchen waste? Lawn care? Recycling? Bathrooms? Office? The bag you need will depend on what you need the bag for. If you don't answer this question, you're literally throwing money away. You could end up wasting money on a more expensive, thicker bag when all you really needed was a less expensive, thinner bag or a shorter bag and thus wasting money on extra material.
OK. You've decided how you're going use your trash bag. Great. Now, you need to think about if you need your trash bag to be strong resistant to punctures and tears, or be able to stretch under a big load. This factor will determine how thick/thin your trash bag needs to be.  Here's where you need to read the fine print on the product box.
Trash bag thickness 
Trash bags thickness are usually measured in mil, which is one thousandth of an inch (.001). These type of trash bags are referred to as low density or linear low density.
Most trash bags you'll find in the store will most likely range between .70 and .90 mil and you can definitely find this measurement on the front of the box.
If you're purchasing a kitchen trash bag, and you're putting in the standard trash fare of milk cartons, cereal boxes, leftovers, old fruit, etc., then a .90 mil bag will serve you just fine.
However, if you're cleaning out your garage or remodeling, you'll need a bag that can stand up to punctures and tears from plaster, broken glass, hangers, nails, old paintings and the like. In that case, you want to look for a bag that is 2.0 mil or thicker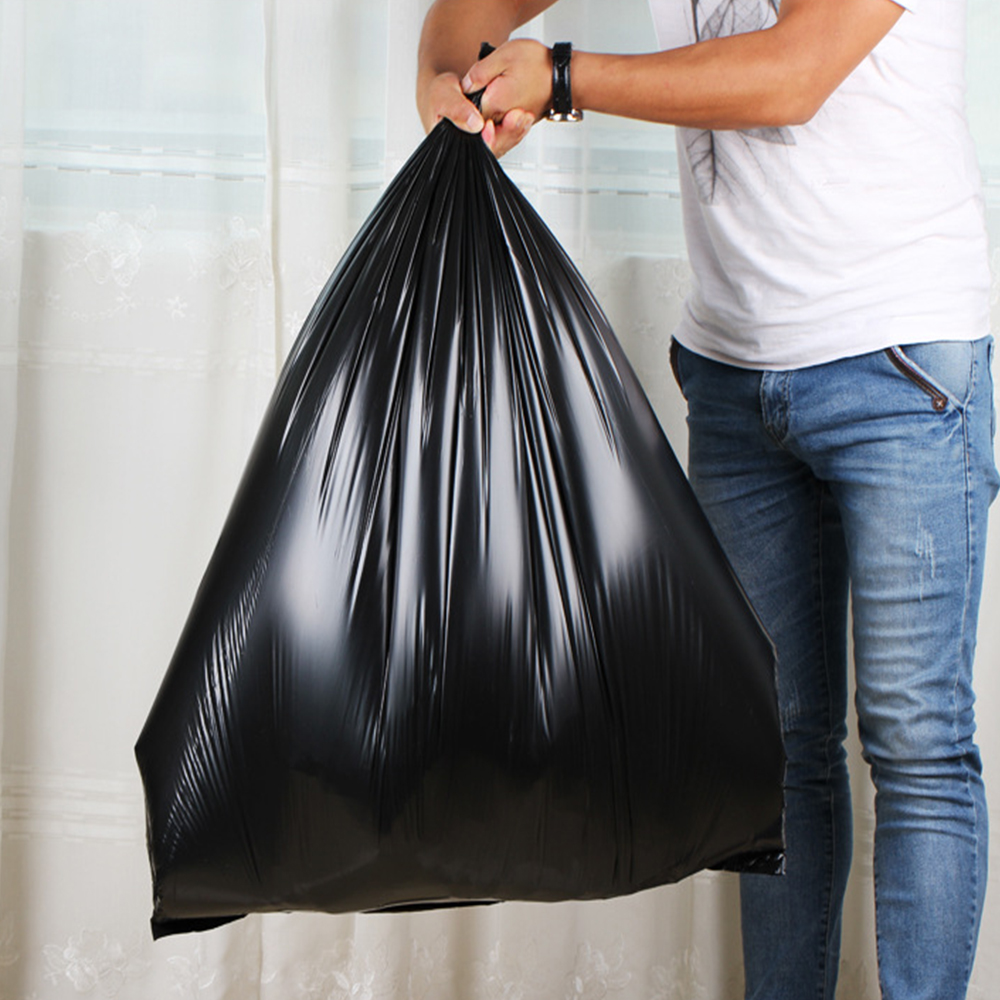 Stretch
If you need a bag that needs to stretch to carry a heavy load rather than survive punctures or tears, then a thinner bag will suit your needs much better. These types of bags are called high density and are the clear bags you often found in office restrooms. These bags are considerably less expensive than their thicker, low density cousin.
If you're throwing away paper or other light items, or have a large, heavy load with nothing that could rupture the bag, these high density bags will serve you and your pocketbook well.
Color
Although trash bags can be purchased in a rainbow of colors, black trash bags and white trash bags dominate the spectrum .Black trash bags are a common choice because they blend in nicely with their surrounding and are not intrusive. Black trash bags help hide what's in your bag and go well with stainless steel cans.
Color also determines price. Black garbage bags are the least expensive since they can be made with the most recyclable material (our black trash bags, for example are made with over 90% recycled material). Next comes white and then clear.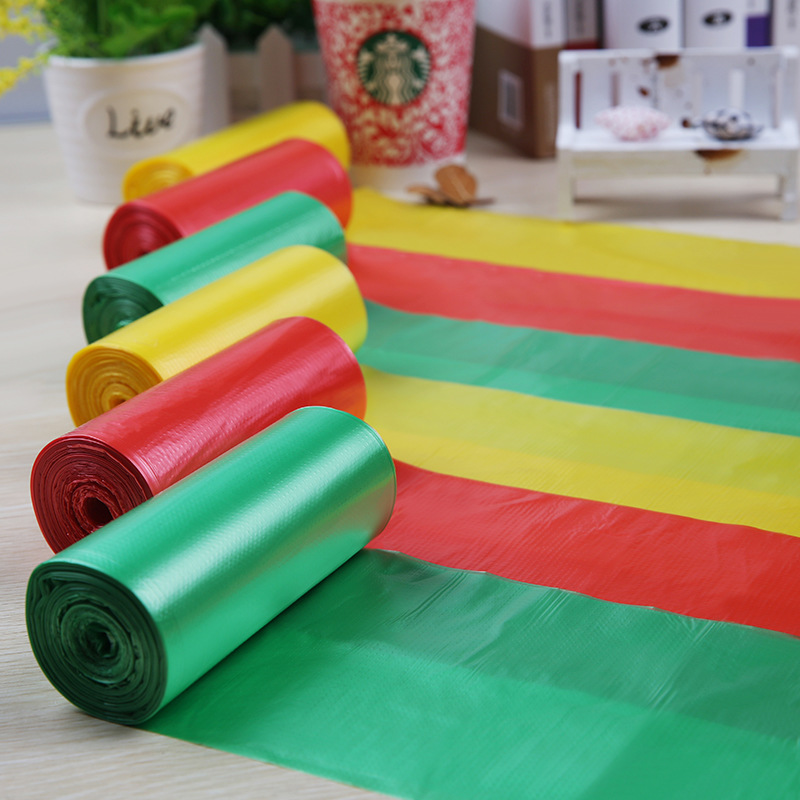 Odor
There's very little you can do about smelly trash, besides throwing it away. While many bags tout odor blocking features, they're not going to put up much of a fight against spoiled cheese or fungus infested pasta salad. You're better to choose some kinds of scented trash bag
Currently, we can create fragrance of trash bags exactly same as customer's requests. The bag is commonly used to carry baby nappy , food or hospital wastes,…
Price
Surprisingly, price is not much of a factor when shopping for garbage bags. There's not a great discrepancy between the prices of trash bags you'll find in stores. Price really only becomes a factor if you're purchasing in large quantities. Then, you'll want to look at price per bag. Otherwise, it's best not to choose a trash bag based on price. Spending the few extra cents to get a thicker, stronger bag may save you from spending time cleaning up that yogurt, coffee grounds and last night's lasagna that escaped from a cheaper, thinner bag.
We all need closure 
The final factor in your garbage bag quest will be what type of closure you prefer: drawstring, flap ties or the time-honored twist tie. Most people out there prefer the drawstring. It helps grip the can and makes for a quick, easy tie. Flap ties can be better for larger trash bags. Plus, they're often less expensive than drawstring bags. And if you must have your twist ties, don't worry. You can include them for free when your order from us.
Contact us
If you are wondering to choose a right garbage bag, please don't hesitate to contact us to receive our free consultation and quotations as well .We can supply you with various types of trash bags from star seal trash bag on roll/ flap tie trash bag/drawstring trash bag/s-shape handle bag on roll,, Thanks to big capacity of 5000 tons/month and 20 year experience , we believe to bring you satisfaction than you expected
HANPAK JSC
Website: www.hanpak.com.vn
Office: K03-18T2 Viet Hung Green Park,Viet Hung,Giang Bien,Long Bien,Ha Noi,Viet Nam,11807
Mobile ( Whatsapp) : +84 898 545 893
Email:( Skype) : info@hanpak.com.vn