Trash bags are commonly used for house/office and industrial hygiene and cleaning. In order to dispense and storage easily, it is usually made on roll. But do you know how many roll type it can be made ? Today I am going to explain and make it clear for you.
1.Star sealed garbage bags with flat top
This is the most common type that are used. The bottom is sealed like below picture, like a star when blow it with air. The strong point for this bottom sealing is very durable and leakproof, not allowing any escape of liquid.
2.Flat bottom C-fold garbage bags
This type is make common flat bags on roll in order for easier dispense and storage, and bottom sealing is 100% leakproof, in order to make the roll shorter, the bag is C-folded.
3.Star sealed T-shirt garbage bags on roll
Based on above common star-sealed bags' advantage, people may like it with handle, that can easily take and dispose garbage, at the same time, it keep the leakproof bottom star-sealed sealing. Currently it become more and more popular, especially in USA  and some European countries.
4.Wave (Flap) top garbage bags on roll
Wave top garbage bags, also called flap top garbage bags, it is similar to the star-sealed T-shirt bags on roll above, but the opening is loose, without handle, but can tie up to close the garbage, see picture below:
5.Drawstring garbage bags on roll
Drawstring garbage bags, with a PE string, it is easily to close the opening by pulling the string. It is side sealing, so the bottom is 100% leakproof. The mainly points is the string strength, shall not easily to be broken when pulling with heavy garbage, in this point, we usually make the string with double layers to enhance the strength. The welding part with the PE stripe is important to, the sealing shall be strong to insure the string cannot be easily to tear up.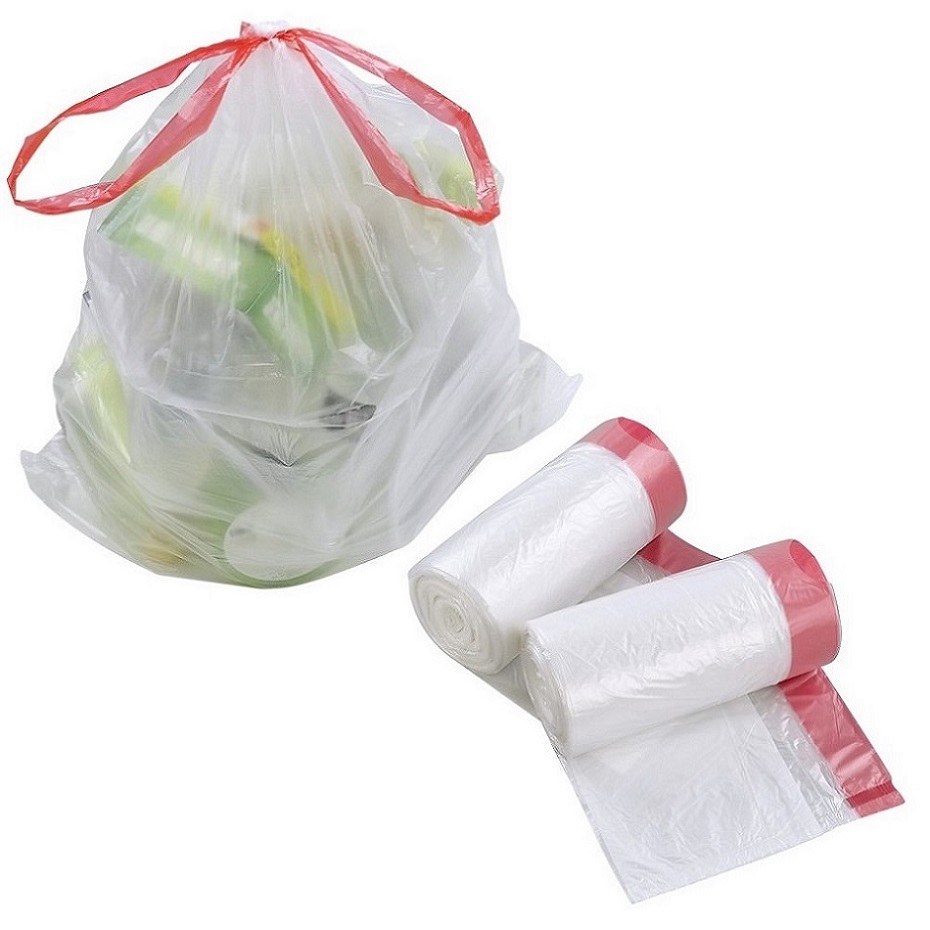 Contact us
If you're confusing which type of trash bag is right for you, please don't hesitate to contact us via our email info@hanpak.com.vn or Whatsapp: +84 906 966 371
We guarantee to feedback within 24hours as sooner
Thanks and hope to cooperate with you!!