Block bottom soft loop carrier bag is one of popular luxury bag in shopping because of its shape and design. These poly shopping bags with handles are made from high density polyethylene for strength and water resistance. The material is heavy weight reusable and recyclable plastic which can withstand hot temperatures and heavy loads.
What are characteristic of block bottom soft loop bag?
All soft loop block bottom bags have extra strong flexiloop handles for convenience and easy portability in use.
All these bags are heat sealed with a square bottom. The extra wide side gussets and block bottom help the bags stand up on its own and reduce the chance of spilling.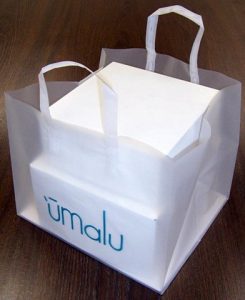 What is the benefit of soft loop block bottom bag?
Soft loop and block bottom create convenience in using progress. Flexiloop handles are integrated for easy carrying. Block bottom allows soft loop bags to be filled quickly and saves time of keeping the bags for users. It's easy to load and unload items from these bags.
Besides, these soft loop carrier bags help presenting and advertising products inside better. Soft loop handle bag with square bottom increase the value of products and make customer's brand.
These loop handle bag with square bottom are ideal for carrying retail merchandise such as fruits, cakes, etc. With a range of different sizes and colors, customer will have many options for their demand.
How to contact with Hanpak JSC
At Hanpak JSC, we pride ourselves in offering the best quality loop handle bag with square bottom as per customer's request with perfect service and policy in sale and after sale. Each of flexiloop handle bags with block bottom is made with our whole enthusiasm, strict management and high quality resin. We're always looking out in your request for just the right balance between cost and quality. Therefore, we are confident to bring you most wonderful bag choices.
Hanpak JSC receives orders for custom soft loop handle block bottom plastic shopping bag as per customer's requirement. For more information of these soft loop bags or other plastic packaging, please kindly contact with us immediately via email info@hanpak.com.vn or hotline (Mobile/ WhatsApp) +84 898 545 893. Our sale experts will help you have an excellent choice for your orders with suitable prices and high quality.
(Source: Hanpak)