As people have an increasing sense of environmental protection, people are more likely to use environment-friendly materials in a different areas.
One of the examples is that the popular use of electricity in the automobile area. More daily, for the benefits of Non-Woven Bag we can see that the Non-woven bags are taking place of plastic bags.
Such trend can be proved by the development of the Non-woven fabrics market, which is estimated to grow from USD 22.62 Billion in 2016 to USD 31.85 Billion by 2022. Compared with plastic bags, Non-woven bags are more reusable, which means more friendly to the environment. Compared with the woven bags, they are more affordable and easy for mass manufacture.
If you are hesitating to make your decision, this article can help. Just reading on.
1. What is the material of Non-Woven Bags? 
There are four common types of the nonwoven materials
We will introduce these four types of material in the following content.
2.Airlaid.
3.Dryland.
4.Wetland.
Spunbond non-woven fabric is a kind of nonwoven fabric, which is made of polypropylene. During the process, the polypropylene will be polymerized into a web by high-temperature drawing, and then glued into a kind of cloth by a hot-rolling method. Because of the simple process, large output, non-toxic and harmless to the human body. Therefore, it is widely used in various fields such as sanitary materials and so on.
Airlaid Non-woven fabric is produced by the Airlaid technology, which is a new method to produce nonwoven fabric by air webbing and different consolidation methods with wood pulp fiber as the main raw material.
The Airlaid fabric can also be called dust-free paper and dry paper nonwoven fabric. It adopts the airflow web forming technology to open the wood pulp fiberboard into a single fiber state, and then uses the airflow method to make the fiber agglomerate on the web forming curtain, finally the fiber web is reinforced into cloth.
Dryland nonwoven fabric is a nonwoven fabric made of staple fibers that are formed into a "fiber network" by the dry method and then reinforced by mechanical, chemical, or thermal processing methods.
It has been applied in a wide range of areas and is one of the earliest categories of nonwoven fabric. The network consolidation technology includes hot bonding method (including hot melt method, hot rolling method), mechanical network consolidation method (including needle punching method, jet solid network method); "chemical bonding method" (including impregnation method, a spraying method, foam method, printing method, solvent method).
Wet nonwoven fabrics are made from chemical fibers, inorganic fibers, and other fiber materials by "wet forming". Through the bonding methods like "chemical bonding" or Thermal bonding, the fiber material can be formed into a nonwoven fabric.
It has higher strength, softness, and elasticity than commonly used paper. The main advantage of wet nonwoven production process includes fast production speed, low density of product surface, uniform and fine structure.
Such fabric has been applied in both industrial areas and medical areas, such as the manufacture of Medical hygiene materials, interlinings, and functional materials for industrial use……
2. The benefits of Non-Woven Bags 
(1). Material
The material of
Non-woven bags
 is a web or sheet of polypropylene fibers. Through the methods of the machine, thermal power, or chemistry, people bond the polypropylene fibers together. They are flat, porous sheets that are made directly from separate fibers.
Nonwoven polypropylene is a very practical fabric. It's applied in the manufacturing of Non-Woven Bags because it's strong and lightweight. From the users, they can carry the Non-Woven Bags everywhere easily. From the perspectives of business owners. Lightweight means an inexpensive cost for shipment.
Other than the Non-Woven Bags, it's comfortable and soft enough for the manufacturing of surgical masks and gowns.
Such advantages can be figured out when you compare the Non-woven polypropylene bags and Plastic bags. Non- woven bags are reusable, recyclable. Also, they are easy to be cleaned.
The elements of Nonwoven polypropylene bags mostly include 5-Type recyclable plastic. Reuse and recycle of the bags can prevent pollution to the land. When they have been recycled, they can be made into new bags.
From the energy perspective, As we mentioned above, Non-woven bags are not like Woven bags.
The ways we use to produce Non-woven are more energy-saving than the ways we use to manufacture Woven bags. For the latter one, we need to knit and weave the materials from threads to clothes.
If the woven bags can be accepted more widely, we believe that the pollutants can be decreased to a significant level.
One of the reasons for its affordability is the efficiency of manufacturing. Unlike Woven bags, Unwoven bags can be produced at a shorter time and inexpensive price. In addition to its lightweight, the cost for the shipment can be decreased. So in a word, the cost for a batch of Non-woven bags will be lower than the cost for a batch of woven bags.
You should also face the problems that different factories have different levels of processing, how to find a reliable manufacturer for the woven bag would be an important problem.
(4). Good way for advertisement 
For business promotion, a Nonwoven polypropylene bag is a good choice.
They can be produced in different colors and printed with your company logo. If you would like to be more creative, you can provide a reversible Nonwoven polypropylene bag, putting two patterns on the two sides of the bag. Such doing can make your bags more attractive.
Non-woven bags are very proper for daily uses like shopping. When people carry the bags with your company logo and walk outside, the goal of promotion has been perfectly achieved. It would be better if you can make the design of the bags more charming.
4. Different type of Non-woven bag
(1). Die Cut Non-Woven Bag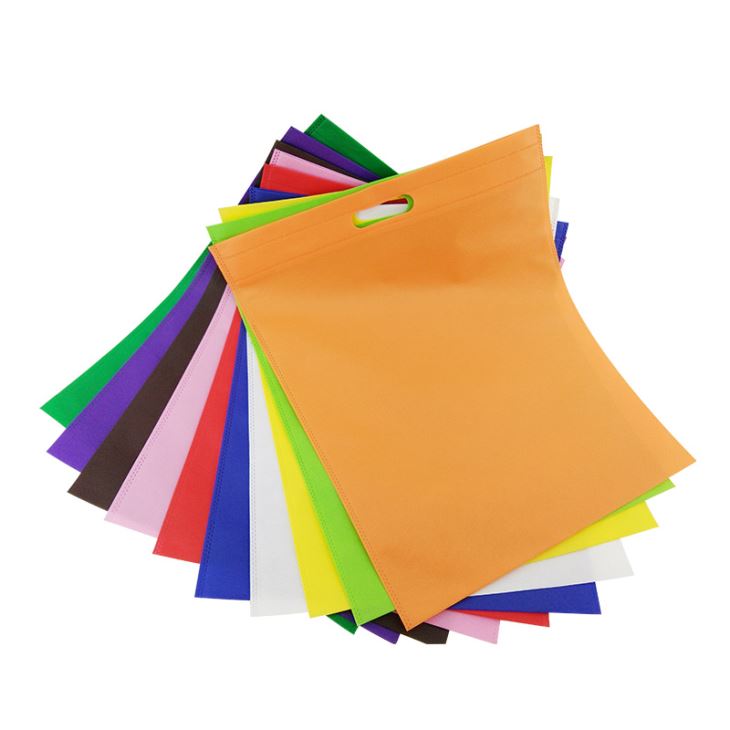 Die cut Non woven bags can be carried on your shoulder when you take them outside. Nowadays it's the most common type of Non woven bag in shops and stores. As part of the bag, The handle of the D-cut bag is flexible and soft, but it would not be ripped easily.
(2). T-shirt Non-Woven Bag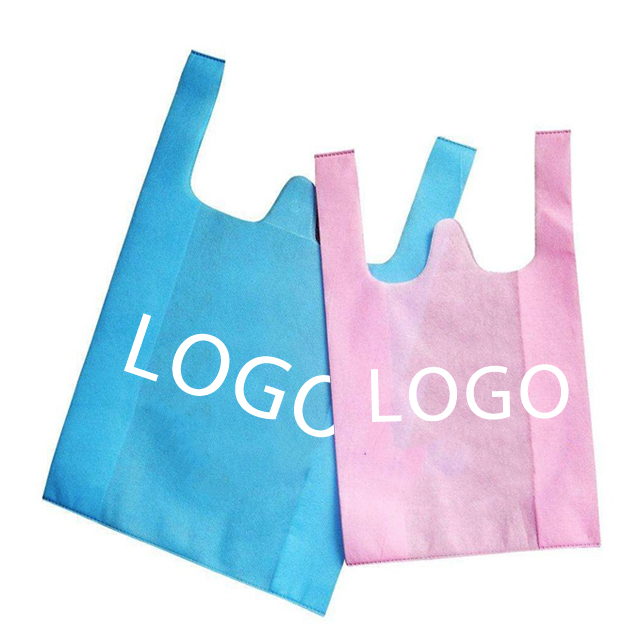 These two cut type Non woven bags are similar. The only difference is their handle. Just like the plastic bags which were commonly used in the store, nowadays both T-shirt cut Non-woven bag and Die cut Non-woven bag have been popular in the places like supermarket and grocery store.
(3). Loop Handle Non-Woven Bag
With the expanded base gusset and the loop handles, you can keep the goods inside the bags stable when you are in movement. That also provides a more beautiful appearance for the bags. Other than the increased stability, Loop Handle Nonwoven Bags are more durable. You do not need to worry about the breakage.
5. Maintenance of nonwoven fabrics
The following points should be noted in the maintenance and collection of non-woven bags
(1) Wash them to keep them clean and prevent the breeding of moths and bacteria.
(2) When storing in new seasons, it shall be washed, ironed, dried, and sealed in a plastic bag, and placed flat in the closet. Ventilation, dust removal is necessary.
The closet should be put into anti-mildew, anti-moth tablets, to avoid the breeding of mold and insects.
(3) Facing pilling, do not pull them out strongly. You have better use scissors to cut them off, to avoid the break of the structure, which is the unrecoverable damage to the Non-woven bags.
Contact Hanpak JSC now to get the eco-friendly bags today.
Email info@hanpak.com.vn or hotline (Mobile/WhatsApp) +84 898 545 893 to help get the answers you need.
Hope to have a chance to cooperate with you.