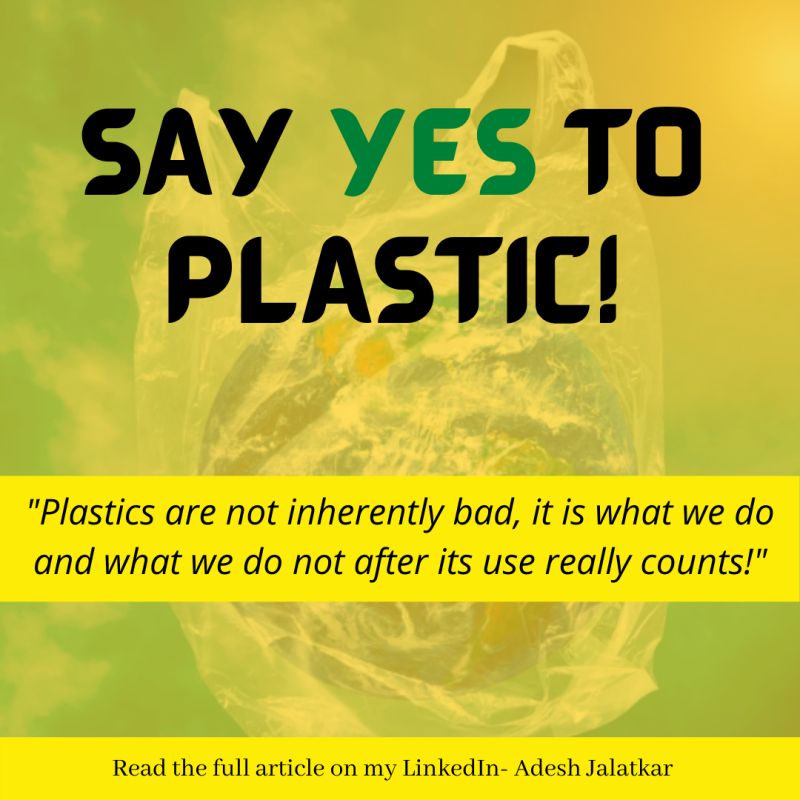 Next time when you hear someone saying: "Say No to Plastics", "Do not Use Plastics", "Plastics is our Enemy", "Plastics is Killing Earth"; stop them and ask them – "If not plastic then what?"
Paper bags? But they require 3 times more energy to produce than plastic bags, 25 times more water, more weight, and more carbon footprints.
Biodegradable and Compostable plastics are said to be the best possible solutions but are technically more harmful and ineffective to control plastic pollution.
They're made from corn starch, wood pulp, sugar cane, and wheat straw, which is coming at the expense of our food supply.
From a carbon emissions perspective, bioplastics have the edge as the.CO2 released during decomposition is equal to the carbon absorbed by the plants. In contrast, oil-based plastics gradually release CO2 that would have otherwise remained underground.
Plastic is the wonder product of the 20th Century and almost irreplaceable.

But does that justify the overuse of plastics? Does that justify plastics pollution? No.

Plastics Pollution is real and it is the right time we should take steps to prevent that.
– Reduce the use of single-use plastics.
– Reuse your plastic bags.
– Use and dispose of plastic waste responsibly.
– Educate yourself and others about plastic waste management.
Next time, I will try to cover the reasons, impact, and available solutions to prevent Plastics Pollution. Till then let me know what are your thoughts about this in comments or messages.
Our fight is against Plastic Pollution, not plastics.
"Plastic is not inherently bad, it is what we do and what we do not after its use really counts!"

Alex, HANPAK JSC
Thanks for reading.
#plastic #plasticpollution #recyclingindustry #plasticwaste #plasticwastemanagement #biodegradable #polymers #wastemanagement
Contact us
HANPAK JSC
Website: www.hanpak.com.vn
Office: K03-18T2, CT15 Viet Hung Green Park, Giang Bien, Long Bien, Hanoi, Vietnam 100000
Mobile (WhatsApp): +84 898 545 893
Email: info@hanpak.com.vn